SAGE 300 ERP Project and Job Costing (formerly ACCPAC)
Project and Job Costing
Count on Sage 300 ERP Project and Job Costing
Project and Job Costing from Sage 300 ERP, formerly Sage ERP Accpac, provides effective project management, including pricing, tracking, and billing—simplifying cost control and preparation to always deliver on schedule and within budget.
The Task You Face
If you're a project manager like many others, you spend a lot of time and energy trying to acquire control over elusive project expenses. High levels of project management expertise are necessary to communication among all parties involved so that you are aware of the materials and expenses who have been charged and who has ordered or delivered. In addition to monitoring other resources, such is the duration of each project or task. You are now attempting to manage projects and duties manually, handling many spreadsheets, and spending excessive amounts of time on.The costs of manual reporting and communications are frequently out of control.
Your Solution
You can easily estimate projects, record and track costs using Sage 300 ERP Project and Job Costing.track billings, payments, and profits while reporting costs. With easily customizable categories. It is adaptable enough to handle big or little projects and can suit almost any requirement. for any commercial setting. The best part is that project information means you won't need to retrain your team can be input in the modules of Sage 300 ERP's transaction entry screens. Equipped with sleek Project Integration with Sage 300 ERP's core modules and Broad Custom Reporting Capabilities Moreover, job costing gives you control over project expenses through improved tracking, increased effectiveness and higher precision.
The Conclusion
You may get efficient and effective project and job costing with Sage 300 ERP. Costs without going overboard with your spending, taxing your internal resources, or sacrificing quality functionality. Considering the cost and the automated tracking, estimating, billing, and reporting advantages of drastically simplified processes: you gain the knowledge necessary to manage expenses and increase revenue.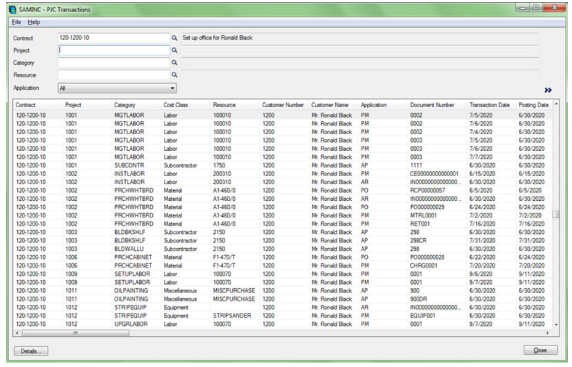 Project and job costing in Sage 300 ERP offers all the features and tools you need Ensure that each job is profitable and effective. view projects quickly and using the optional tree view to classify objects.
BENEFITS
Automated Project And Job Costing
Obtain automatic project efficiency and work costs without hurting your wallet stretching internal resources, and budget or making functional compromises
Flexible Estimates, Billing, and Profit Recognition
Maintain profitability utilizing thorough instruments for profit analysis and budgeting determine the prices and timeliness of initiatives are appropriate, and resources are in line throughout the course of the project.
Seamless Connectivity
Connect to other Sage 300 ERP systems with ease modules that do not require data Reentry reduces the possibility of errors and enhancing data precision.
Comprehensive Reports and Inquiries
Drill-downs and reports that are simple to access give specific, concise, and exception information rumors that project and job costs will exceed requirements. 
Secure Business Integrity
Safeguard your most priceless asset your data project's strict security measures and Job Costing makes sure your essential Information is kept private
Small Investment. Big Return. Peace of Mind.
Learn about the advantages of Sage 300 ERP system! Get a single, integrated solution to base your company on, allowing for more effective processing, more productive employees, and the capacity to actually understand your organization. With its outstanding architecture and current-day power, Sage 300 ERP ensures that your company is founded on a firm foundation flexibility for tomorrow's changes. Benefit from a solution with a global reach and the depth of capability with the local touch required for your business to accommodate multi-entity and multinational enterprises. An ecosystem that works together to support your newfound freedom of choice will ensure your company's success for its entire existence. Of course, Sage technology is tried, true, and seasoned after serving businesses just like yours for over 30 years.
Features
Automated Project and Job Costing
Obtain comprehensive project data that may be readily customized to meet your company's needs. To quickly manage and report expenses and profits for any size project, build a hierarchy of project levels and transaction kinds. Manage jobs or contracts at the contract (job), project (phase), and category levels. You can use up to five segments in your contract numbers to represent different sorts of contracts and divisions, and you can define the cost account to be utilized in cost transactions for each category. You can manually enter the burden and overhead connected with your projects or you can define formulae to calculate these expenses automatically. Indicate whether for fixed price projects that employ the billings and expenses or accrual-basis accounting methods, to produce item or summary invoices. Project categories and accounting techniques can be used to create very simple or complicated projects. Even your own fields can be created to store more project-related information. With the help of these adaptable skills, you can evaluate projects at every stage to keep costs and resources under control.
Flexible Estimates, Billing, and Profit Recognition
Enhance your project cycle management, from accurately estimating costs to timely product delivery. To accurately estimate costs and resources, historical and project data are easily accessible. Define the quantity, unit cost, and billing rate for each employee, item of equipment, subcontractor, material, and overhead charge that will be used on the project. Multiple accounting procedures and comprehensive billing and revenue recognition systems for your project-specific accounting requirements—update revenue and cost projections as necessary with a thorough audit of the adjustments. Define the cost and revenue estimates for each project category, or assign cost categories and have the system automatically calculate cost and revenue estimates for each cost category. Allow employees to enter timecards from any place (on-site or at the office) to manage their time and billing records.You can even link timecard information with payroll via a web browser. In accordance with GAAP rules and your company's needs, you can also easily recognize and take profit from revenue at any point during the accounting cycle.
Seamless Connectivity
You can create individualized reports using Project Costing that are based on the most recent business intelligence. Reviewing key information about each project's operations at any stage of the project cycle might help you see issues before they arise. You may evaluate which projects are lucrative and which are not by comparing projected against actual resources spent on them in reports by project and phase. You can also identify the most expensive parts of your project so that changes can be made to keep it profitable. You can review the current status of any project, including project status, profitability, and estimate-to-actual comparisons, using the simple-to-use inquiry screens. Using the alternative tree view and drilling down, you may also move between the projects and categories inside the contract. back to the initial transactions.
Secure Business Integrity
Protect the sensitive information in your organization with safety, security, and management. Protecting your extremely sensitive project data from illegal access or manipulation, Sage 300 ERP ensures thorough security at many levels.